2014

11.03.2014 First Rottfan's meeting upcoming at the end of this month
and the second one will be on middle of May.
More info will be sent to RF-families through RF-facebook group or by email.

We are also planning first RF-training weekend to be held on July, more about that later.

March 06th 2014 Now has also the last puppy left to his new home
Rottfan's Amarillo Sky "Otto" moved to Siuntio with Jukka, Heli & kids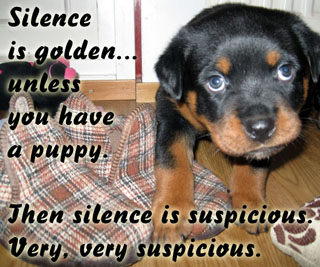 March 02nd 2014 Happy Birthday Judi!

It's time to celebrate your 10th birthday!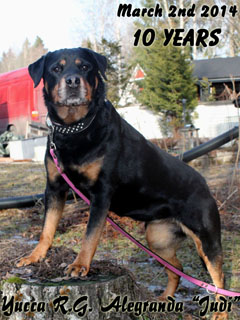 Yucca RG Alegranda (Orlando vom Hause Neubrand x Nouki RG Alegranda)

Still full of joy & temperament. Love you so much



March 1st 2014 Four puppies have now left us and moved towards new adventures:
Rottfan's Asphalt Cowboy "Roti"
to Jyväskylä with Emmi, Pete & "big sister'" Caro
Rottfan's American Honey "Mimmi" to Järvenpää with Sini & Petteri
Rottfan's American Ride "Filu" to Vantaa with Tuomas & Emma
Rottfan's Anaheim Angel "Aada" to Vantaa with Petri, Johanna, Noora & Tommi

Aada is co-owned with Petri and our future hope for Rottfan's breeding.

Feeling blue and happy at the same time - it's difficult to let the puppies go but they all got loving homes and I know how much they have been waited for. We wish you all the best of luck and a lot of patience for the owners

At the age of 7 weeks puppies weight:
Aada 5.5kg, Filu 6.2kg, Mimmi 5.8kg, Roti 6.9kg and Otto 5.6kg
February 20th 2014 Time flies so fast, A-litter already six weeks old!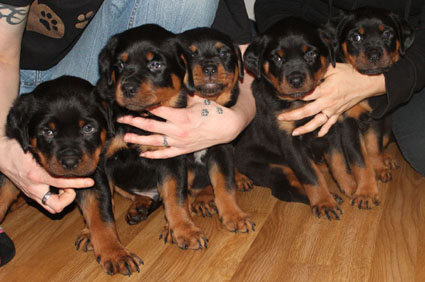 from left to right: Asphalt Cowboy, American Ride, Amarillo Sky,
American Honey & Anaheim Angel
February 17th 2014 Finally it's official! There it is, on Finnish Dog Database -
first Rottfan's breeding. A dream true I have been waiting for over 10 years.

Feeling so happy!
February 13th 2014 A-litter had meeting with the vet today. All puppies were microchipped and examined. Overall condition was very good, all puppies had normal heartbeat, correct bite and no-one had umbilical hernia and all boys had their balls



February 6th 2014 Puppies are now four weeks old and weight between 3030-3420g. A-litter got their registerd names today and what else would be as suitable theme for Rottfan's litters as California & Country music; two of their breeders great passions (third one is the Rottweiler of course). Painot pennuilla nyt välillä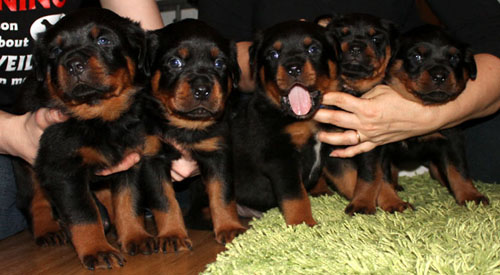 boys: Asphalt Cowboy, American Ride & Amarillo Sky
girls: Anaheim Angel & American Honey

January 20th 2014 13 years ago on January 20th 2001 was born Jykevän D-litter and our dream finally came true. From that litter we got our first Rottweiler Jykevän Dark Daniel "Dani". Dani has been on the rainbow bridge almost four years now but he will always be that "once in a lifetime"-buddy for us. Dog with the heart of pure gold

Dani wasn't the easiest one as a puppy but as he grew up he was truly a soul mate. Dani was kind and open but also very dominant, he had great temperament and very high fightning drive so he was easy to train and had endless desire to work. But as he was also very self confident, sometimes even stubborn and had great sense of humor life was never boring with him. For us Dani was and will always be THE ROTTWEILER and have very special spot on our hearts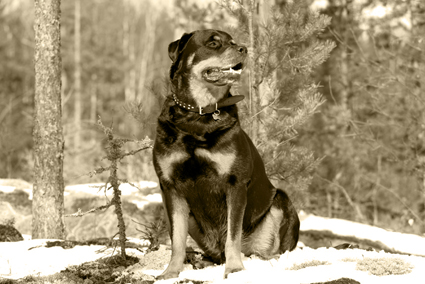 January 16th 2014 We have puppies


Rottfan's A-litter has been born January 9th 2014,
mother and 2 girls & 3 boys are all doing fine and the puppies are growing fast.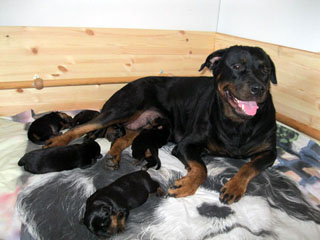 2013
December 03rd 2013 We will have puppies on January 2014! Combination MH Rockweiler's Dirty Harry & Jykevän Linnea. Pregnancy confirmed via ultrasound

For more info look at our puppies-page.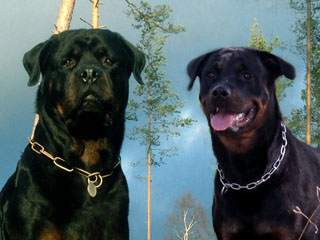 November 27th 2013 I'm feeleing relieved, happy and a little sad...
Our lionhead-mix rabbit Nuutti moved to a new home today. He has been so lonely after her girlfriend Viivi passed away on July and because we have to travel a lot for work, getting a new bunny wasn't an option right now. So I had no choice than to make this hard decision and find a new home for him. It's the happiness of our pets that counts most after all. And finally I think I found just the right place for Nuutti, he will have loving owners, new girlfriend and other pets around. Couldn't ask for more. Nuutti, I'm hoping all the best for you. My little one, you're always on my mind



November 8th 2013 Cedi is mated on 6th and 7th November. Hopefully we will have small black & tan "love packages" upcoming near Epiphany 2014.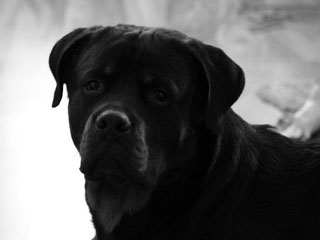 October 21st 2013 Cedi is finally on heat

August 8th 2013 Two of Cedis older sisters has passed Finnish temperament test. Jykevän Kullannuppu +144p and Jykevän Kultapilvi +172p. Way to go girls!

July 15th 2013 Koda passed MH-test (mental description) and earned his first tittle, so he is now officially MH Koda vom Hause Schwartz


At the same weekend he also met mechanical bear "Konekarhu Kontio" on unofficial Bear-testing where they test dogs reactions, aggression etc. towards a bear. Koda got 8 out of 10 points what is not bad at all.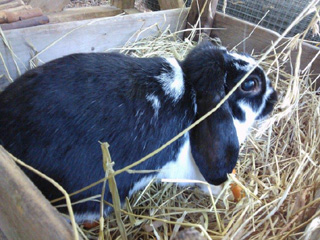 July 11th 2013 R.I.P Viivi - Our little lovely girl passed away and is now with angels"

June 15th 2013 Cedi today at Lohja Breed Speciality Show - finnish BST accepted with reservations.

June 11th 2013 Happy Birthday Cedi 3 years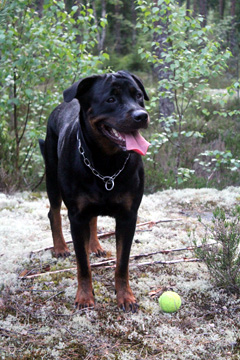 June 3rd 2013 Had fun & doggyful weekend at Uusikaupunki area with Heidi and Cedi.
Cedi also passed Finnish Temperament Test with final points +125. Well done Cedi!
May 3rd 2013 Cedi is no CGC as she passed the Canine Good Citizen test today, even with excellent marks! Congratulations Cedi & Heidi. So proud of you two.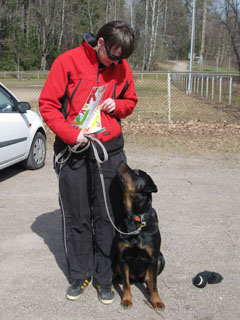 May 2nd 2013 Me and Cedi took part to the Keravan Agility Team club championships. It really wasn't our best day on track, but came 2nd anyway at the Beginners class.

April 30th 2013 Happy happy Birthday Dear "Brother bear" Koda 2 years


Love you so much. Below Koda with his birthday present.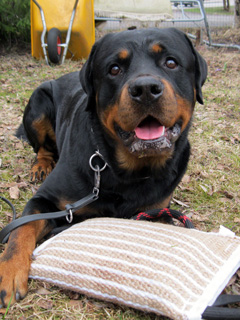 April 27th 2013 Today we took two unofficial agility courses with Cedi. The result was 2x disq., but at least the public had a lot of fun as in the first round Cedi was making inspection to the entire hall. The second round went a little better. So it seems we still need more training in foreign places. But not so bad without something good: A's contacts went well on both rounds

. Not bad at all for a dog that made an entire A-barrier for the first time on previous evening's rehearsals.

Meanwhile Cedis half-brother & Fannis nephew Jykevän Gatekeeper "Kassu" at Lahti INT Dog show: 2nd best male, CAC and res-CACIB! Congratulations to the handsome boy as well as to his family and breeder!

April 24th 2013 WOW! It's now official: KODA VOM HAUSE SCHWARTZ
(Adolf vom Bördelümmel x Unke vom Hause Anin) HD A/A, ED 0/0, eyes ok. We are so happy!



Some other great results came also:
Peras (Damon aus der Espenstätte) son, Jykevän Master Mirko HDA/A, ED 0/0 , eyes ok.
And Cedis sister Jykevän Lina HD B/B, ED 0/0. Now 6 out of 7 siblings has been examined and I must say, it's not bad litter at all:
Lina B/B 0/0, Lilli A/A 1/0, Leopold A/A 0/0, Linda A/A 0/0, Lisa B/B 0/0 and Linnea A/A 1/0. Five of them have their eyes checked as well and they are all clear.

April 20th 2013 Koda and Cedi has been tested today for working drives by helper Jussi Sairanen.
Both dogs did a great job for a first time bitework. You can find the videos (at youtube) here:
Koda vom Hause Schwartz aka Koda - Working drive test -video
Jykevän Linnea aka Cedi - Working drive test -video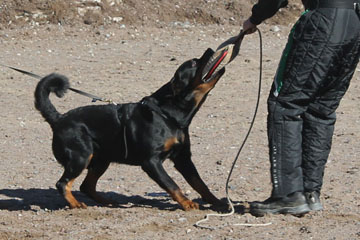 26.03.2013 "The speed replaces the mistakes and the power replaces the skills." Today six members of Team Agiweilers took part in the unofficial agility-tunnel race at Vuokkoset arena. All went well as a first timers and some of the team members even made a couple of clean runs. Team spirit was great, everyone had a lot of fun and the coach can be quite proud of the trainees

. Thank you for being there and let's do it again someday!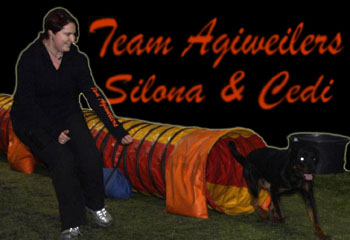 March 2nd 2013 Our "little princess" Yucca RG Alegranda aka Judi celebrating her 9th birthday! It's amazing how fast time flies.. and she is still full of joy and temperament, loves obedience and agility and is always ready to work!


March 1st 2013 New layout published, updates here and there.
And some big news... we are planning Rottfan's A-litter at the end of 2013. See Puppies -page for more details.

February 2nd 2013 We went for the first time to the Helsinki dog spa with Koda, it was really fun experience. Koda enjoyed swimming a bigtime, the place was nice and the staff friendly. We will definitely go again soon.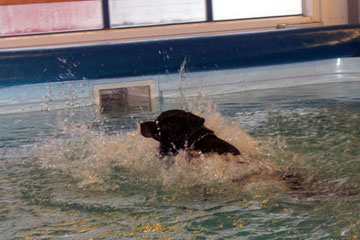 January 30th 2013 A lot of stuff planned for this year ... Kodas health examinations, Cedis temperament test and breeding examination, shows, agility, search and rescue, tracking, training weekends, different courses or seminars, puppyplans and who knows what else ... So it will be enough exciting moments and some speed & dangerous situations upcoming this year

Cedin velipuolet kävivät joulukuun puolella Pevisa-tutkimuksissa ja tulokset olivat tulleet tammikuun alussa:
Jykevän Gatekeeper A/A 0/1 ja silmät terveet
Jykevän Black Symphony A/A 1/0 ja silmät ok (distichiasis)

Lisäksi Turun KV-näyttelyssä 19.01. hienosti J. Gatekeeper NUO ERI1 ja J. Black Symphony NUO EH2.




2012

December 08th-09th 2012 At INT Dog Shows "Helsinki Winner & Winner'12" Cedis half-brothers Jykevän Gatekeeper YOUTH Sg3 and YOUTH V3 SA & Jykevän Black Symphony YOUTH Sg4 and YOUTH Sg.

September 8th 2012 Porvoo National Dog Show - Koda vom Hause Schwartz JUN V3! Judge Kristiina Niemelä, Finland.

"Small (?) male. Very good type, well proportioned head and body. Beautiful head profile and expression. Scissor bite. Beautiful dark brown eyes. Good stop. A well-set ears. Good neck and topline. A little long in loin and slightly sloping croup. Very promising chest, which needs to be met. Good balanced angulations. Good limb bones. Medium brown markings. Moves well in front. I would like more kick to the back and a longer step backwards." Behavior of the dog: typical for the breed when approaching. JUN V3

At the same show Cedis half-brothers Jykevän Black Symphony YOUTH Sg1 and Jykevän Gatekeeper JUN V.

Photo below: Like father - Like son. Adolf as a young adult and Koda at the age of 16 monhs.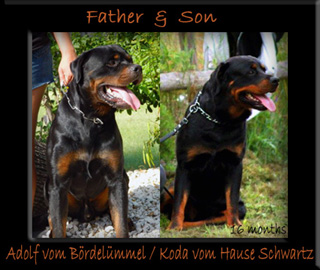 August 31st to September 2nd 2012 Training weekend at Akaan Piilopirtti. Obeadience, tracking and lot of fun time together. Thanks to all involved. Photos here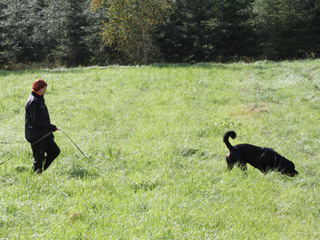 August 25th 2012 Tervakoski INT Dog Show - Koda vom Hause Schwartz JUN Sg4. Judge Gunnel Holm, Finland.
July 7th 2012 Karjaa INT Dog Show - Koda vom Hause Schwartz JUN Sg1 j& Jykevän Linnea OPEN G. Both got nice critiques. Judge Tanya Ahlman-Stockmari.

June 11th 2012 Happy Birthday my beautiful girl Cedi (Jykevän Linnea) 2-years!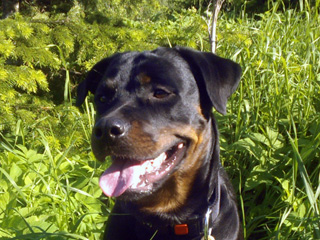 June 9th 2012 Salo National Dog Show - Cedis sister Jykevän Lilli INT V1, Best bitch 3, Res-CAC. Congrats! Judge Pirjo Aaltonen.

May 27th 2012 Järvenpää National Dog Show - Jykevän Linnea (Cedi) INT Ggd, judge Soile Bister, Finland. The judge thought that Cedi is overall too "sporty looking" but her character is excellent.

April 30th 2012 Have a Happy Happy Birthday Koda the Bear (Koda vom Hause Schwartz). Big boy already!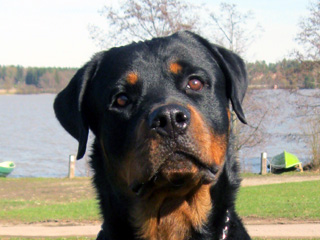 April 29th 2012 Lahti INT Dog Show - Koda vom Hause Schwartz JUN Sg3

. Judge Sanna Vakkilainen, Finland.

March 2nd 2012 Happy Birthday Judi (Yucca R.G. Alegranda) 8-years!!!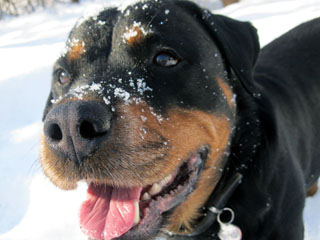 February 14th 2012 Happy valentines day!
Planned Rottfan's A-litter at the beginning of the year 2013.
More information coming on "Puppies" page.

Few more results for Cedis (Jykevän Linnea) siblings:
Jykevän Lilli HD A/A, ED 1/0 & Jykevän Leopold HD A/A, ED 0/0; both have healthy eyes too.
Not bad litter at all. Only 2 out of 7 haven't been examined yet.

February 8th 2012 Great news! Jykevän Linnea "Cedi" HD A/A, ED 1/0, eyes ok
(f:Disco von Hause Nomis, m:Jykevän Gisa)
I want to thank Heidi & family for taking such a good care of her.

Results for Cedis siblings are looking good also:
Jykevän Linda HD A/A, ED 0/0, eyes ok & Jykevän Lisa HD B/B, ED 0/0, eyes ok

January 15th 2012 Koda vom Hause Schwartz today in his first dog show
- Lahti Group Show, puppy class 7-9 months:
2nd BEST MALE PUPPY with HP and excellent judgment.
Judge Marja Kurittu, Finland.

"Excellent size, very beautiful head, excellent eyes, ears well set, bite ok, good neck. Well developed body for his age, bit short loin, normal angulation. Good coat quality, beautiful markings. Normal movements."
We are so happy about our "little" boy

!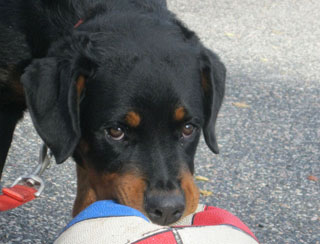 October 13th 2011 Welcome home KODA


Our newest family member Koda vom Hause Schwartz has finally arrived to Finland. Koda is very promising malepuppy out of ADRK-parents Adolf vom Bördelümmel & Unke vom Hause Anin, date of birth April 30th 2011, breeder Marco De Leon - Texas USA. Want to thank Marco and our dear friend Ruben Piña (vom Aztlan) for trusting us this wonderful boy.
September 11th 2011 Porvoo Dogshow - Cedi (Jykevän Linnea) was JUN V1

by judge Jari Laakso, Finland. I'm so happy!
"15 months old junior female with very promising body. Head still immature. Good bodystrength. Enough limbbones. Good rear angulation, enough front angulation. Chest needs more time. Still quite narrow skull. Stop could be stronger. Correct bite. Enough full-bodied muzzle. Good rear movement, some young dogs looseness on front movement. JUN V1
August 11th 2011 Match Show Helsinki - Cedi got grading 1 on FCI group 2 adults but wasn't placed any further. Judge was Teija Salmi-Aalto, Finland.
June 15th 2011 Rottweiler main speciality show 2011 was hold in Lohja June 12th. The weather was very hot and Cedi (Jykevän Linnea) got only "Good" at her first junior class show. Judge was Gerard O'Shea, Sweden.
"12 months. Medium large, normal substance. Needs more bone. Headform is too plain, needs more scull & stop. Flying ears. Very dark eyes but bold. Scissor bite. Good neck, a little too flat in withers. Straight overline. Too straight forehand and flat feet. Normal angulation. Correct coat & markings. In movement medium reach and drive, normal tail carriage." JUN G
June 2nd 2011 Match Show Järvenpää: Cedi (Jykevän Linnea) won her class (puppies 9-12months) and was BIS-puppy 3! WOW! I'm so proud of my "little girl". Judge was Nina Jangster /kennel Bristregal, Finland.


Feb 7th 2011 Emma (Jykevän Jenni) is examined via ultrasound - no puppies found

Jan 26th 2011 Turku Int Dogshow Jan 22nd - Cedis siblings at puppyclass: Jykevän Linda 1st and Jykevän Lilli 2nd, at youthclass Jykevän Kullannuppu Excellent and Jykevän Kultapilvi Sg.
Jan 6th 2011 Emma has been mated with Benjamin.


Hope we will get puppies on early March.

Dec 27th 2010 Emma (Jykevän Jenni) has finally come into heat and will be mated soon!

Dec 1st 2010 Cedi (Jykevän Linnea) started her shows in "Best In puppy show" Helsinki 27th November. Judge was Sanna Vakkilainen, Finland.
"5 months old female puppy, clear sextype. Head still too narrow, ear carriage should be better, bite still immature. Mid-brown little bit round eyes. Correct bones for her size, needs more forechest, very good ribcage (chest), upright upper arm. Quite meager but well balanced angulation. Correct movement for her age, very good tail carriage on the move. Friendly behaviour." Baby class 3rd

And here are final results for Cedi and her siblings. Welldone!
Males: 1st with HP, 2nd Best dog - Jykevän Leonhard
Females: 1st with HP, Best bitch, BOS-puppy - Jykevän Lisa
3rd - Jykevän Linnea , 4th - Jykevän Lilli
Breederclass: 1st with HP, BOB-breeder - Kennel Jykevän
"Group of well balanced and developed puppies, beautiful color markings, good bones, correct head proportions, promising bodies, pleasurable friendly behaviours." (participating Leonhard, Lisa, Linnea and Lilli)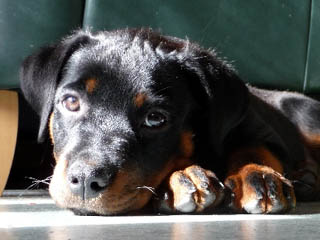 Oct 30th 2010 Lahti Int Dog Show - Cedis older siblings Jykevän Kultatuuli JUN V3 and Kultaheinä JUN Sg.

Oct 26th 2010 Rottfan's A-litter planned at the beginning of 2011
Emma (Jykevän Jenni) will be on heat on November or December 2010.
Oct 9th 2010 Emma went to the Tuulos Groupshow with Jimmy. Judge was Saija Juutilainen from Finland.
"3 years old female, nice body and very good proportions. Correct bones. Head with good expression. Bit round and light eyes. Good bite. Muzzlebase should be fuller. Needs more forechest. Tuck-up too ascending. Good tail. Good movement on front, rear movement short and bit powerless. Good color markings. Good temperament. Open class Sg4.
Nice work Emma & her first time handler



Sep 30th 2010 Emmas & Cedis mother Maisa (Jykevän Gisa) passed Finnish Character Test +142p
Judges Mikael Laine and Sami Heikkilä, Finland. Congrats A-M!